What is the Best RV for a full time family?
---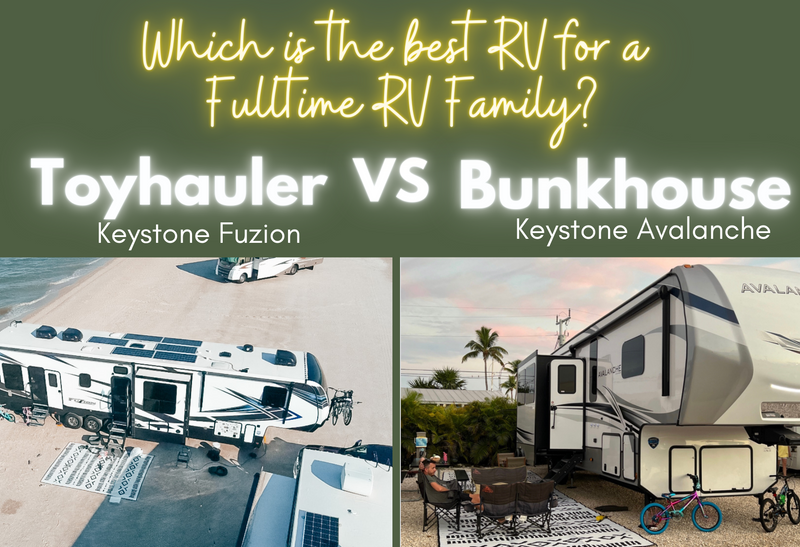 We can't tell you what type of RV is best for you and your family, but we can share our experience of owning a Class A (gas), Toyhauler, and now a Bunk house fifth wheel. I'll present the PROS/ CONS of all of them and I hope this helps brings clarity. 
Before we launched into full-time RV travel we bought a used 2018 Forest River Georgetown that was fueled by gas. This is how we fell in love with camping. We got it for a good deal in 2020, and when everyone else was not traveling,  we were able to! We still owned our home in Ohio and after a 2 month long trip, we realized we didn't want the trip to end. We came home and I (Ashley)  started to research if families traveled full-time for the next few months. Turns out, they do! ;-) 4 months later we launched into Full-time RV travel! 
The things to consider with a Class A: 
-If its gas, its cheaper, but filling it up you can't go through the diesel islands, and thats HARD! 
-The passenger feels like the driver is driving on the other side of the white line, so it can be verve wrecking! 
-There isn't as much storage space for all the things. 
-The challenge we had with 3 kids was that at the end of the night, we were waking up the daughter that slept above the drivers seat. 
-In order to dinghy tow, you need a certain type of vehicle and the Blue Ox dingy tow costs us about $4,000 to get it all installed. 
-Leveling our class A was always a pain point for us, the concern was cracking the front window. 
-We loved having 2 full showers, but the "Y" connection Rob didn't not like. 
When we decided on our 2021 Keystone Fuzion 429 Toyhauler, what I wish I would have known is that the appropriate truck to haul it would be very expensive (We highly recommend a dually). The payment was $1,200/ month, so we decided to use some of the money we made from selling our home and rental property and we paid off the truck. 
Things to consider with a Toyhauler: 
-You will LOVE the deck! 
-They typically come with a generator and are boondock ready with large tanks!
-Modifying the back to fit the kids is fun and a challenge, you will more then likely change it a million times! 
-The kids beds could disappear during the day, but bringing them up and down daily does get old. 
-We found the kids went outside more because of the deck, but during the day didn't have their bed available, because it was on the happi jac system. 
-The cost of hauling a 20K pound RV is expensive. We averaged about 7 miles to the gallon. 
-Fitting into certain campgrounds was a little more of a challenge being 44 ft long, but over all wasn't too big of an issue. 
-We had an RV fridge, and I liked it! I didn't know what I didn't know and with the bunkhouse, I prefer the Residential. It is nice to have the option to put it on propane when boondocking, but defrosting it about every other month is time consuming and inconvenient 
-We actually bought a second car since Diesel prices went through the roof and having a dually as a daily driver can be a challenge and expensive. I do miss driving with the rest of the family, but I also love having "me time" while I become Rob's chaser car! 
After our Toyhauler was in an accident, we knew it would be a while before we would get back our home on wheels, so we decided to purchase a second RV. We wanted to be able to speak to both and really decide which one we like more for our family as our families needs have changed since getting on the road. Our daughters missed having their own "space" during the day. 
Things we to consider with a Fifth wheel bunkhouse: 
-The payment is much less, and it only weights about 13K pounds. 
-We average about 11 miles to the gallon, compared to 7 in the Toyhauler. 
-We LOVE the pantry space this model has to offer.
-The Residential fridge is something I did't expect to love as much as I do. What a game changer!!!! Especially the ice maker!!!!
-The double trash cans, deep drawers in the kitchen, and double sink is so nice! 
- There is no way for our dog to get on top of the kitchen counter in this RV, but in our Toyhauler he could (its the little things!) 
- Love our outdoor kitchen/fridge, but we find the TV is in an odd spot and don't really use this as much right now. 
-The underbelly space is so nice, but with that we need organization and look forward to getting the MORryde cargo trays soon to make life easier! 
-We prefer the East/ West beds over the North/ South in out Toyhauler. It gives us more space and we were able to build a desk over top of the dresser. 
-Did I mention I miss my deck in the Toyhauler? 
Overall, we love all 3, in their own way! There are pros and cons to all of them. 
We plan to rent one of them out after the Toyhauler gets fixed! Stay tuned and follow our at @Peeples.and.Places journey as we start making some modifications to the bunkhouse! 
We will also be sharing more on YouTube as well!
We would love for you to subscribe here!
What questions do you have?!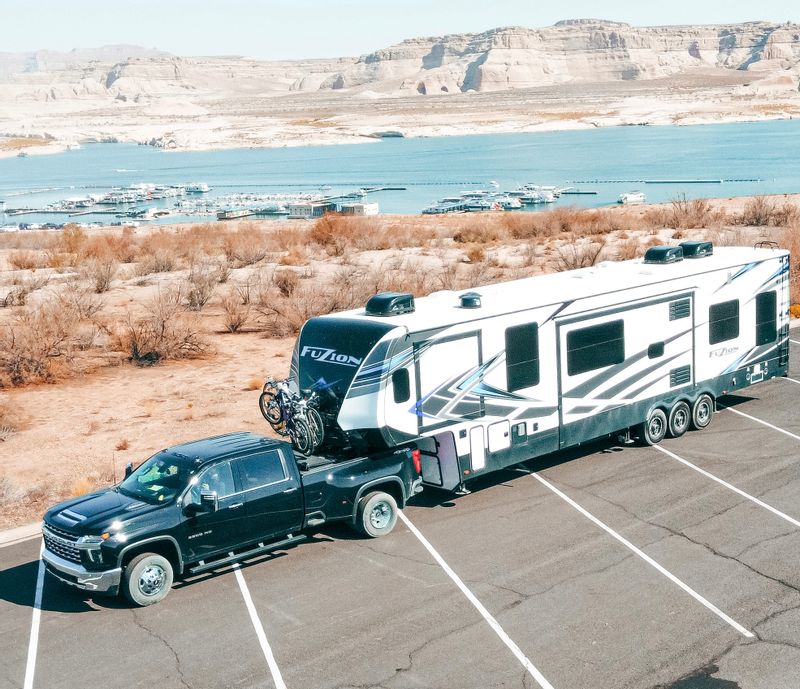 Click an image below to display the larger version.