How to get mail as a Full Time RVer
---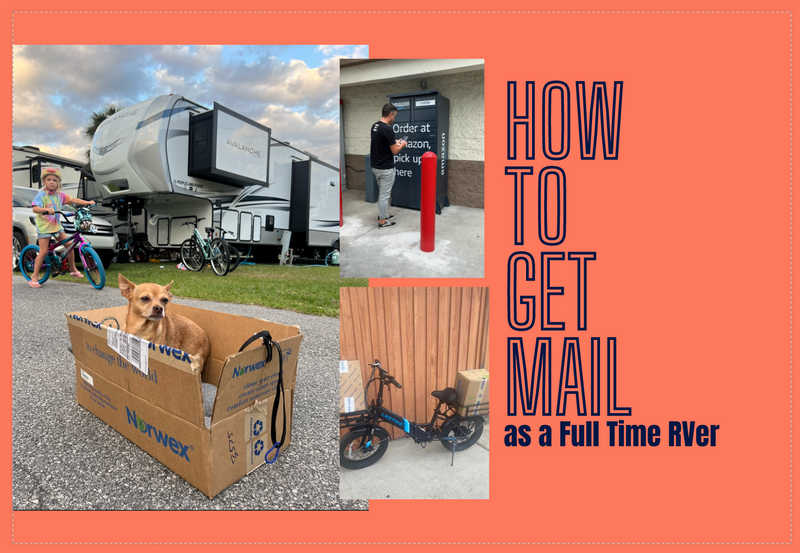 As a full-time RVer, getting mail on the road can be a challenge. Fortunately, there are several options available that make it easier to receive packages and letters while on the go. In this blog post, we'll explore some of the best ways to get mail on the road.
Amazon Lockers - If you're an avid Amazon shopper, using Amazon lockers is a great way to receive packages while on the road. Amazon lockers are available in many cities and allow you to have your package delivered to a secure location where you can pick it up at your convenience. To use an Amazon locker, simply select the locker as your delivery location during the checkout process.

Campgrounds - Many campgrounds and RV parks offer mail services for their guests. This can be a convenient option if you're staying in one location for an extended period. Some campgrounds charge a small fee for this service, while others include it in their amenities. Be sure to check with the campground beforehand to see if they offer mail services.

Escapees Membership - Escapees is an RV membership club that offers a variety of benefits to its members, including mail forwarding services. With an Escapees membership, you can have your mail forwarded to their mail service in Texas, where it will be sorted and forwarded to your current location. This is a great option if you're frequently on the move and don't have a permanent address.

General Delivery - Another option for receiving mail on the road is to use general delivery. This service is offered by the US Postal Service and allows you to have your mail sent to a post office near your current location. To use general delivery, simply address your mail to yourself, include "General Delivery" in the address, and specify the post office where you want to pick up your mail.
In conclusion, there are several options available for getting mail on the road. From Amazon lockers to Escapees membership, these services can help ensure that you stay connected and receive important packages and letters while on the go. By utilizing these services, you can enjoy the freedom and flexibility of RV living without sacrificing the convenience of having a permanent address.
What questions do you have?