Top 5 RV Upgrades
---
Here are the Top 5 RV Upgrades we have made on our RV
We have been on the road full time for over 2.5 years and I will say we have tested a lot of products and are committed to bring you only the ones that have enhanced our RV journey. Anything that makes RV life easier, safer, and more efficient is what we are after!
Here is our list of the TOP 5, so far! I'm sure we will find more the longer we are on the road!

1. MORryde Upgrades- Quality is everything to us, and this company's motto is 'Above and Beyond Always' for a reason. We have had several upgrades and will continue to add on more. The Safe-T-Rail has made it so that walking up and down the stairs is safer for us and our kids. The Latch Extender is perfect for when your arms are full of groceries, or your child is trying to open the door and needs to walk back down the steps to open up the door. The Strut assist steps have made a massive difference, they are much more stable, and light weight with no complicated pins involved to adjust the height. We also really love our Rear Stabilizer, with 3 kids it has made a huge difference! We no longer feel the RV shake when someone is walking around or when the washer and dryer is going. Click on any of these links and receive 7% off + free shipping.
2. RV Snap pads have made such a difference when it comes to the convenience on travel days. We used to have to walk around the entire RV collecting leveling blocks every time. Now, our RV has permanent jack pads that we like to call "shoes" for our RV. These also add extra surface area to your jacks to help with stability as well as protect your RV jacks from the elements. Grab them for 10% off by using our link & code: PEEPLES10
3. RV Lock- True story, we put these locks on our Toyhauler and LOVED them! When we got into our RV accident, we had a competitor reach out and offer us free locks to try on our New RV, so we tried them. It didn't take very long to realize that the quality just wasn't there. The RV doors were flying open on the highway!!! Since then we went right back to RV lock, and have been so happy! That hasn't happened yet! The company gave us our very own 15% off coupon code to offer you as well!
4. B&W Hitches- We can't sing the praises of this company enough! In September of 2022 we were rear ended from behind on I-95 in Washington DC. There was a driver following too closely and someone cut us off. Rob needed to put the brakes on quickly, and the guy behind us rear ended us going 55 mph! This caused us to have our RV in the auto body shop for over 9.5 months! All that to say, if we hadn't had the B&W Hitch, it could have been much worse. Our hitch was basically untouched, and we walked away without any injuries. We are forever grateful for the amount of the rigorous testing they do and the American made steel it is made with. We are forever indebted to this company for keeping our family safe. Their Website.
5. Halo Back up Camera- We wish we had this when we got into the accident. It would have recorded everything. Lucky for us, we had a witness that stopped. If we didn't, it would have changed our lives in a very drastic way. Please do yourself a favor and record while you drive (front and back!) Link on amazon. In the event you are in a situation, like us, this will help you with the insurance company.
What are your favorite RV upgrades?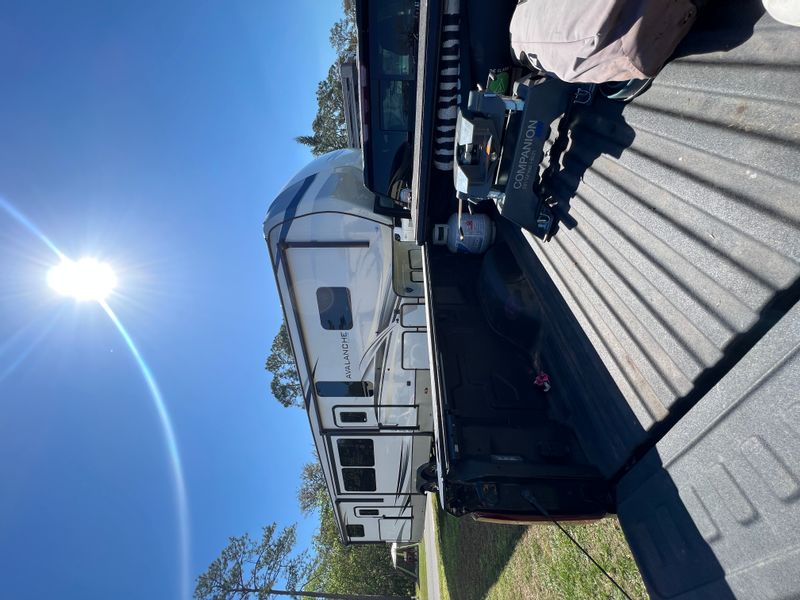 Click an image below to display the larger version.